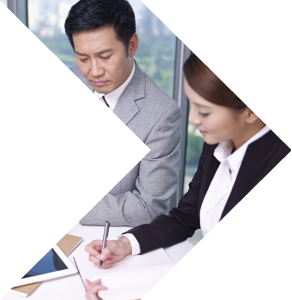 Pedigree. Lineage. Track record... Developer Group comprises stars who have dazzled the Real Estate Marquees of emerging markets and especially India. Professionals who have depth of knowledge when it comes to customer insights & project assessment as well as risk management expertise. With sights set on the global arena, the group plans to collaborate with the best of the best in international consultants & practitioners and already have in place, strategic alliances with the largest construction conglomerates of the Far East. Powered with a line-up like ours, Developer Group is all set to be on the forefront of change.
Akinari Tokuyama
Goldman Sachs, 2000 – 2005
Vice President of Carlyle Group (Buyout Team), 2005 – 2011
Certified Public Accountant
Master of Policy Management, Keio University, Japan
Akshey Sharma
Head Projects, Bharti Realty Ltd., 2008 - 2014
Deputy Project Manager, HCL Technologies Ltd., 2006 - 2008
Civil Engineering, SMCC Construction Ltd., 2005 - 2006
Planning Engineer, G.S. Developers & Contractors Pvt. Ltd., 2002 - 2005
Assistant Engineer, Era Construction India Ltd., 1998 - 2002
B.E. (Civil Eng.), MBM Engineering College, Jodhpur, Rajasthan, 1994 - 1998
PG Diploma in Finance, IMT Ghaziabad
LEED - AP (IGBC)
Albin David Rebello
CEO, Bharti Realty Ltd., 2009 – 2013
MD, DLF Home Developers Ltd., 2005 – 2009
MD & CEO, Tata Housing Development Company Ltd., 1997 – 2005
Project Manager, The Taj Hotels, Palaces and Resorts, 1988 – 1995
Area Sales Manager, NELCO, 1985 – 1988
Officer, TATA Administrative Service, 1984 – 1985
Fellow Royal Institute of Chartered Surveyors(FRICS)
Master of Management Studies in Marketing & Finance, Jamnalal Bajaj Institute of Management Studies, Bombay University
Bachelor of Arts (Honours) in Economics, St.Stephen's College, University of Delhi
Anuj Suri
Head – Brand Management, Bharti Realty Ltd. 2010 - 2015
Assistant Brand Manager, Bacardi India Pvt. Ltd, 2009 – 2010
Assistant Manager – Strategy and Product Management, DLF, 2006-2009
PGDM in Business Management, IMM, 2006
MBA, Preston University, USA, 2006
BBA, IP University, New Delhi, 2003
Arshad Usmani
MD & Partner, Anantham Epic Homes LLP, 2014 – Present
Director & Partner, Malay Epic Homes LLP, 2014 – Present
C.O.O., Lokhandwala Construction Industries Ltd.,2009 – 2013
VP and Head, Real Estate, Bombay Burmah Trading Corporation Ltd., 2007 – 2009
GM, Business Development, Kalpataru Homes Ltd, 2006 – 2007
Head – Business Development, Lokhandwala Constructions Ltd., 1999 – 2006
Senior Executive & Regional Head, TATA Housing Development Ltd., 1992 – 1999
PGDM, K.C. College, Mumbai
M.Com., A.M.U., Aligarh
B.Com., A.M.U., Aligarh
Arun Kumar Gupta
CFO, BCC Infrastructures Pvt Ltd., 2011 – 2014
Head (Finance & Accounting), Bharti Realty Ltd., 2007 – 2011
General Manager (Finance & Accounting), Intertoll ICS India, 2004 – 2007
General Manager (Finance & Accounting), Tetra Tech India, 2001 – 2004
Senior Manager (Finance & Accounting), SPML Infra Limited, 1997 – 2001
Chartered Accountancy from ICAI, 1992
Cost & Work Accountancy from ICWAI, 1991
B.Com. (Hons.) from Hindu College, Delhi University, 1989
G.Kannan
Advisor to Corporates, mainly in real estate sector
Executive Director - VSquare Development Company P.Ltd .2012-2015
Chief Financial Officer, Curo India Private Limited 2011
Director-Commercial, Assetz Property Services Private Limited 2010
Director Arkan Proindia Pvt.Ltd., 2009
Executive Director Pramerica BHI Advisors Private Limited 2006-2008
President (Finance & Corporate Affairs), Global Realty 2005-2006
Vice President and Company Secretary, DLF Limited, 1995-2005
General Manager and Company Secretary in Gangeshwar Limited 1982 -1994
Central Coalfields Limited 1976-1981
B.Com., from University of Madras 1975
M.B.A. from Faculty of Management Studies, University of Delhi
Institute of Company Secretaries of India 1981
Institute of Cost Accountants of India 1986
Khandu Veer
Director, AKV RE Ventures Management, 2008-present
Director, DigiSol Technologies, 2005-2008
Director, Formulasys, 2002-2005
Software Development Project Manager, Tata Consultancy Services, 2000-2002
Project Manager, Reliance, 1998-2000
Pawan Mehra
CEO, Nohara India, 2013 – Present
Chief Sourcing Officer, Century Pulp & Paper, 2012-2013
Senior VP, Era Infra Engineering Ltd., 2011-2012
Senior VP, DLF Home Developers Ltd., 2006-2011
Head Raw Material & Procurement, Horizon Pulp & Paper Ltd., 2003-2006
Head Raw Material, Ballarpur Industries Ltd., 2000-2003
Head PPIC, Pt. Pindo Deli Pulp & Paper Mills, 1997-2000
Head Raw Material, Ballarpur Industries Ltd., 1980-1997
PGDM (Materials Management), Punjab University, Chandigarh
PG (Public Administration), Punjab University, Chandigarh
Ranjit Chopra
Director, DLF India Ltd., 2010 – 2011
CEO, Delanco Real Estate Pvt. Ltd., 2005 – 2010
President & CEO, Inalsa Appliances Ltd., 2001 – 2005
President & CEO, Turner Morrison Land Ltd., 1993 – 2001
Fellow Chartered Accountant - Institute of Chartered Accountants of India
B.Com. (Honours), Hindu College, Delhi University
Satish Panandikar
Vice President, Emaar MGF Land Ltd., 2007 – 2014
General Manager, DLF Ltd., 2006 - 2007
General Manager, Goa International School Pvt. Ltd./Bell Towers Pvt. Ltd., 2004 – 2006
Resident Director, Frischman (Prabhu) India, 2002 – 2004
Head (Planning & Design), Tata Housing Development Company Ltd., 1996 – 2002
Project Manager, Hotel Leela, Goa, 1994 – 1996
Chief Engineer/Project Management Consultant, Infrastructure Projects, 1985 – 1994
Director/Partner, RCC Pipe Making & Construction Company, 1978 – 1985
Assistant Engineer, Public Works Department (PWD) Goa, 1974 – 1978
Bachelor of Engineering (Civil), Bombay University, 1974
S. Prakash
Director, DLF Housing & Construction Ltd., 2005 – 2009
Executive Director & Deputy CEO, Tata Housing Development Company Ltd., 1997 – 2005
Assistant Vice President , Sterling Holiday Resorts (India) Ltd., 1992-1996
Profit Centre Head, United India Foods,1988 - 1992
Vice President, Computer Point (I) Ltd., 1987 – 1988
Chief Executive, Kamala Solvents Pvt. Ltd., Dindugal, Tamil Nadu,1986 – 1987
General Manager, Karnataka Filters Pvt. Ltd. Bangalore,1980-1985
Masters BA (PGDM), IIM Calcutta
Bachelor of Technology, IIT Madras
Disclaimer
This disclaimer ("Disclaimer") will be applicable to this Website. By using or accessing this Website,viewer agrees with the Disclaimer without any qualification or limitation. The Company reserves the right to add, alter or delete any material or information from this Website at any time and may, at any time, revise these Terms without notification. Viewers are bound by any such amendments and the Company, therefore, advises that the viewer periodically visit this page to review the Terms.
This Website and all its content are provided on an "as is" and "as available" basis. No information given under this Website creates a warranty or expand the scope of any warranty that cannot be disclaimed under applicable law. Use of this Website is solely at the viewer's own risk. The content & information provided in this Website are indicative only. Nothing on this Website constitutes advertising, marketing, booking, selling or an offer for sale or invitation to purchase a unit in any project by the Company. It does not constitute part of an offer or contract. Design & specifications are subject to change without prior notice. Computer generated images are the artist's impression and are only indicative of the designs intent.
The particulars contained on the website mentions details of the Projects/developments undertaken by the Company including depicting banners/posters of the Projects. Viewers are therefore required to verify all the details, including area, amenities, services, terms of sales and payments and other relevant terms independently with the Company in writing from the Company prior to arriving at any decision for buying any unit(s) in any of the said Projects. The said information will not be construed as an advertisement. To know more about any of our Projects / developments, please contact our sales team or visit our sales office during office hours and speak to one of our sales personnel.
In no event will the Company be liable for any expense, loss or damage including, without limitation, indirect or consequential loss or damage, or any expense, loss or damage whatsoever arising from use, or loss of use, of data, arising out of or in connection with the use of this Website or any action taken by the viewer relying on such material/information on this Website.
© Copyright 2013, All Rights Reserved with Developer Group |